The official URL for this IPTV service is https://rokuiptv.com/

My Thoughts…

Product Name: ShowJack TV
Product Description: No IP Lock IPTV Service delivers 100s of live channels from North and Central America plus some South American channels. Many popular TV networks for movies, news, shows, kids, and documentary. Can also watch US Local, Religious, Espanol, Mexico, Music, and Colombian channels. Has CatchUp TV, Adult, and EPG (TV Guide). Dedicated live sports section plus PPV events. Get access to 1000s of on-demand TV series w/ seasons & episodes plus on-demand movies w/ genres & new release. Comes with many great features such as full screen/preview screen, parental controls, time-shifting, Add to Favorites, Closed Capturing, and more.
Compatible with Amazon Devices (Firestick & Fire TV) and Android Devices (TV, Box & Phone). WebPlayer (Watch TV online from web browser) compatible with iOS devices and computers. Can use VPN service (optional) and connect any compatible device when traveling. Has a 24-hour free trial and two subscription plans.
Brand: ShowJacks
Offer price: 26.00
Currency: USD
Availability: OnlineOnly
Usability

Performance

Picture Quality

Compatibility

Live Channels

VOD/CatchUp

Sports/PPV

Global Channels

EPG (TV Guide)

Features

Support
ShowJacks TV Review
For North, Central, and parts of South America, TV viewers can watch their TV channels and VODs no matter where they live in the world. Whether it's lives sports, movies, TV shows, or CatchUp TV, you get it all under one roof. But that's just a small portion of what all is delivered by this No IP Lock IPTV service. You will sit back and enjoy the low cost without losing your favorite channels, TV shows, sports, and movies you love to watch. Watching TV online allows you the savings compared to cable TV. With or without the economy going through an inflation period, still want to be able to watch premium live channels.
This IPTV service delivers a lot that appears to every household member. Connect up to 5 compatible devices at one time so that each family can watch something different. Connect any compatible device when traveling and never miss any ball games or any favorite TV channel again. Bring them with you wherever you go in the world. If not from using the TV app, then watch your favorites from the webplayer via web browser. There's more TV entertainment that meets the eye for US, Canada, Mexico, and Colombian TV viewers just to name a few. Get the free trial and test every on the new Thorium app that's supported, or the old Ultimate Player if you already have it installed. There are two very affordable subscription plans which you will be amazed when seeing price and all you get with it.
Pros
100s of live channels (premium, US locals, music, Canada, Mexico, Colombian, Religious & more)
Watch PPV events, adult TV, CatchUp TV, and more
Dedicated Live Sports category and PPV category
Major TV networks to watch movies, news, sports, shows, etc.
Streaming content for the entire family
1000s of on-demand movies and TV series (Incl. new movie releases & genres, seasons & episodes)
Watch on the go and never miss watching your favorites
Webplayer for iOS and computer users
No IP lock system that allows using VPN service (optional)
Time shifting
Report non-working channels inside app
Can connect up to 5 streaming devices simultaneously
24-hour free trial
3-day money-back guarantee
Many feature enhancements included
Cons
Several VOD movies were tested, and only 2 did not work
Limited number of US Local channels (90+)
Movie trailers did not work/player
Limited compatible devices (only Amazon & Android devices / webplayer: iOS & computers)
ShowJacks Review (ShowJacks TV Review) by Real User and Tester. There are other names for this IPTV such as ShowJacks TV or ShowJacks IPTV, formally known as Clutch TV. If you used them in the past and want to try them again, read on. What you are getting is a top IPTV service that gives you a low-cost way to watch live premium TV channels and many other live streams online as well as VOD movies/TV series.
But there's much more to Show Jacks than that. If you've been thinking about cutting your cable bill or want to give your TV entertainment a booster shot, welcome to ShowJacks. This IPTV service delivers North, Central, and some South American TV streaming content whereas you don't need to live in those places to watch what they deliver.
Anyone and everyone worldwide can subscribe and get access to the same streaming content to watch what they want. You must have a High-Speed Internet connection, a compatible streaming device, and an IPTV service such as Show Jacks IPTV to watch TV online.
In my ShowJacks review, I'll break all of this down plus more so that you get a good understanding of what you may want to get into.
Additional Info…
If you already have the Unlimited Player app/apk installed on your device, you can continue using it. The same goes for any Media Player that also requires the Service ID, Username, and Password. But understand that Thorium is supported only whereas you can get support for it should there be an issue down the road.
Do Not contact ShowJacks to get support for any other Media Player requiring the Service ID (not Provider ID) that you may want to use. If your Media Player undergoes a performance issue, uninstall it from your device, and install the Thorium Player.
So let's move along and start the ShowJacks TV review which I've already tested the IPTV service with the Media Player app/apk connected.
ShowJacks Review of the IPTV Service and Thorium Player
I entered into the 1-month subscription plan so that I could spend more time testing and reviewing this IPTV service. I'll get into all the details of the trial and subscription plans later on. My go-to streaming device was the Firestick which is a great device to use for any IPTV service like ShowJacks TV.
I have three household TVs (LG & Samsung smart TVs plus HDTV) with the Firestick connected to each TV. I installed the Thorium Player app/apk on my LG and Samsung smart TVs connected to the Show Jacks IPTV service (servers).
If you are going to use the Firestick or Fire TV, which I suggest using the Firestick, there are some extra steps that must be followed. And this will include downloading another app in order to sideload the Thorium Player on the Firestick or Fire TV. I created a video for you that shows you everything below as well as related videos that you need to watch.
Start Watching Your Favorites Online with Free Trial or Subscription
What is ShowJacks
How to Signup for Free Trial or Subscription
Setup Instructions
Install ShowJacks-Thorium Apk on Firestick
How to Install on Firestick (Fire TV)
Amazon Firestick Info & Where to Buy
How to Stop Consistent Buffering on Firestick (Should it occur)
Get TV Antenna to Watch Local Channels Without Cable (Get all your local channels w/o cable TV)
Ideal VPN Service for IPTVs (Optional but may improve streaming performance)
Streaming Content, Features, User Interfacing & Performance
After completing the entire installation setup, the first stage of my ShowJacks review, I opened the Thorium Player. I was prompted to create a profile name whereas you can create as many as you want. Next, I was prompted to enter the Service ID, Username, and Password.
You will get those activation/login credentials via email when signing up for the trial or subscription. In that email, it will also include the app/apk URL to install the Thorium Player plus other information for Android device users. I suggest you watch the 'Setup Instructions' and 'Install ShowJacks-Thorium Apk on Firestick' videos above.
Android users will use the same app/apk URL to type in the web browser to install Thorium. This is what I did with my Android smartphone which is the other part of my ShowJacks TV review.
Streaming Content
After entering my activation/login credentials, I was on the Home screen inside the Thorium Player connected to ShowJacks. The layout was pleasing to the eye with many sections or categories of channels, VOD, features, etc.
You will see a movie that appears on the top portion of the screen. Below it, the 'Favorite Channels' appears that track what you were watching previously. The next section below is the 'News & Information.' Below that is the 'Trending Series,' and then we get to the 'Recommended Channel.' Again, the entire layout is very attractive and appealing.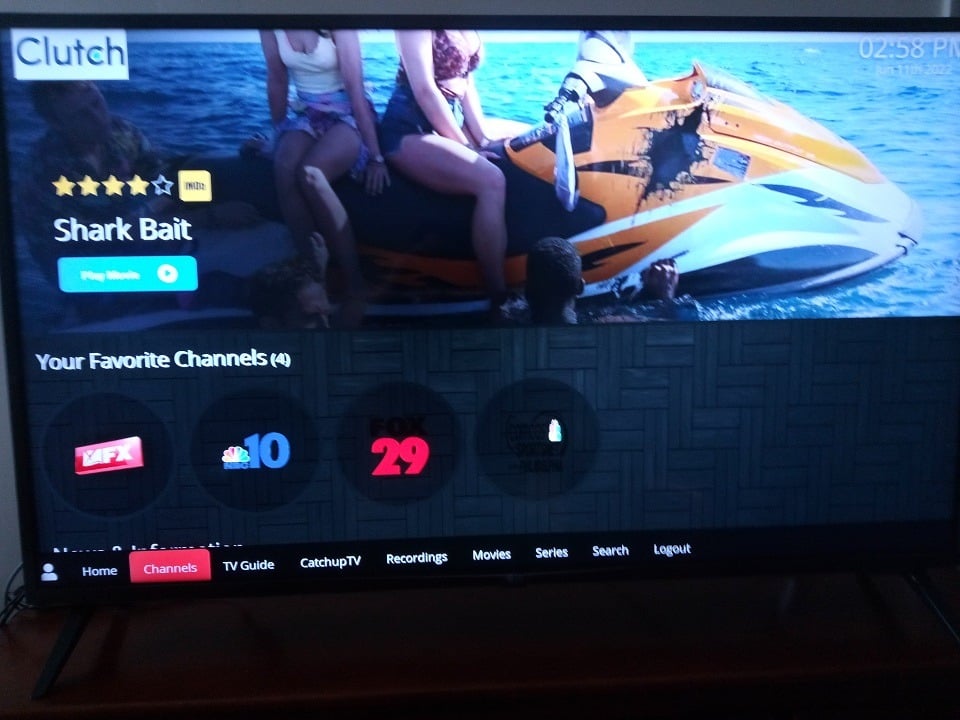 At the bottom of the main screen, you have the following menu – categories…
Setting icon | Home | Channels | TV Guide | CatchUp TV | Recording | Movies | Series | Search | Logout
When selecting the Settings icon, you get the following: Settings, Messages, Favorites & Wishlist
Inside Settings, you get: About, Update App, Recording Offset, Parental Control, Change Language, Time Format (AM-PM or Military) & Devices.
Channel Categories
In this section are all the live channels plus some feature enhancements. At the top of the screen you see:
Back, Sorting, Toggle View, Search, USA (182 channels), Favorites, Sports (206), News & Weather (23), Catch UP (58 channels), Canada (95), Kids, Locals (93 US channels), Religious (15), Music (20), 24/7 (2 TV shows only), International (2 channels only), Espanol (105), PPV (25), Adult (25), Colombian (87) & Mexico (126).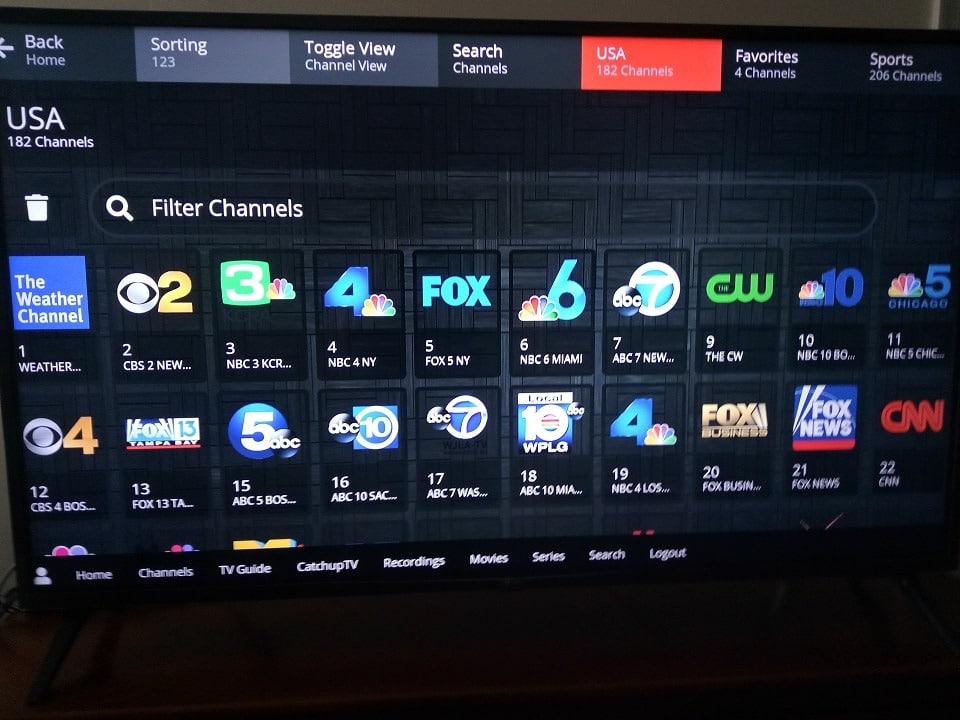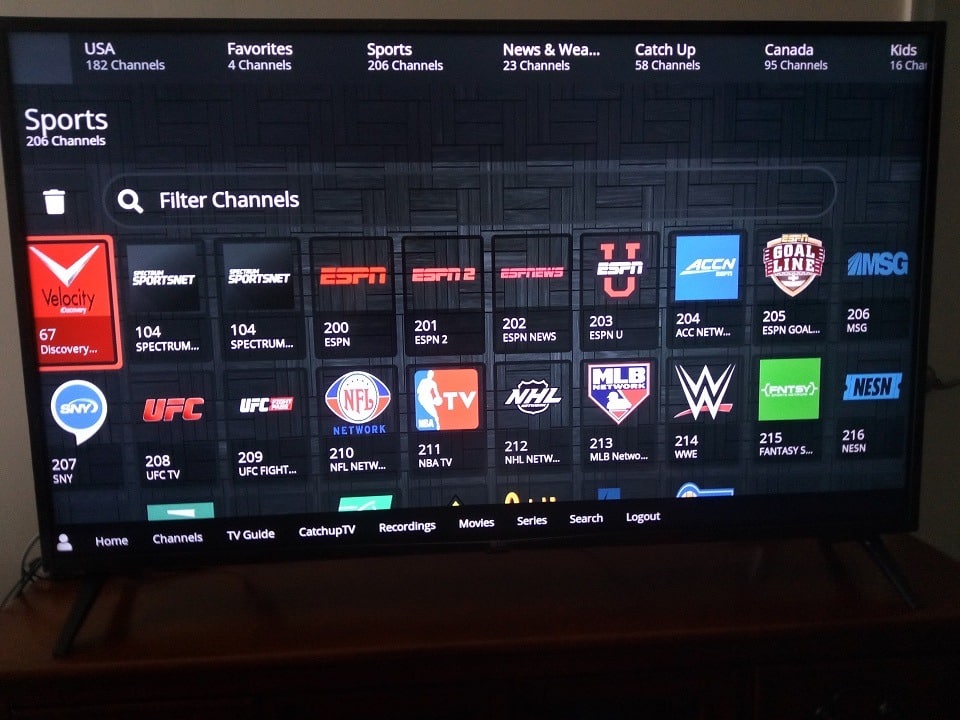 Again, I have to marvel at how everything looks and the organization of all the content available. I had no problem finding the category that interested me and pinpointing exactly what I wanted to watch online after that.
Further, in my ShowJacks review, I played channels from different categories. I could not test them all but the ones I tested worked/played. Both my smart TVs are 4K and Firesticks 4K. The picture quality was crystal clear. I'm sure there are SD (720p), HD (1080p), FHD, UHD, 4K streams, and perhaps 8K.
Additional Info…
There are many premium channels from major TV networks available. Just name whatever comes to mind and more than likely Show Jacks delivers it. And if not, you might want to contact the service to see if they can add the channel you want.
The CatchUp section is rare for IPTV services, most don't include it or have stopped including it. Many of the TV shows that I played in this category worked, some didn't work during my ShowJacks TV review. Local channels only had three of my Philadelphia channels and all of them worked.
Other channels didn't work/play when I went into the Colombian and Espanol categories. No channels seemed to work in the Mexico category. This may be due to there not being any subscribers interested in these TV locations right now.
The channels that I played in the Sports category worked but I'm sure you may come across some that don't play. You can definitely watch PPV boxing, the big fights/special events in the PPV category. I also found one regional sports channel for my city.
As you can see the service is not perfect and I'm sure you will come across some US channels not working either. Should you find a non-working channel that you're interested in watching, just contact support. There's another way to report the issue inside the Thorium Player which I'll get into in the Features section later on.
TV Guide
Next up, my ShowJack review covered the EPG (Electronic Guide) / TV Guide category. When I opened the TV Guide, there is a column on the left with all the TV network names. Many TV shows are listed in their respective time slots and days, also the current date and time are there.
At the very top of the guide, you see Back, Search, channel category, and date. I called it the Channel and date because there is no name for it. But for the channel category, the name of the channel category appears should as the USA.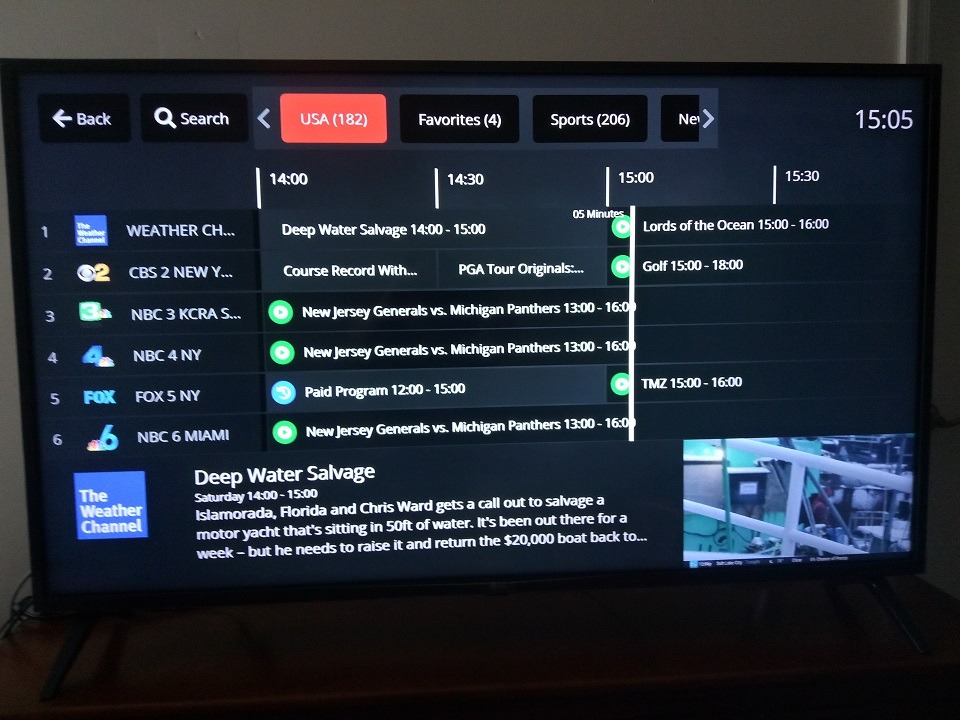 You can select to open this section. What appears are all the channel categories that I revealed previously in the Channel category. You can choose, for instance, the USA and all the USA channels load the TV Guide. Select Sports and all the sports will load the guide. You can select any category listed to fill the guide and click whatever is of interest inside to TV Guide to watch it.
As for the date section to the right of selecting a channel category, you can change the date. Doing so will reload the TV shows inside the guide for that date. You can go back 6 days from the current date and load the guide with a specific date of channels. And you can play and watch them from the guide.
The channels/TV show will preview in the lower right corner. Click the channel again and it will play it in full screen.
CatchUp TV
Next in my ShowJack IPTV review was CatchUp. I was surprised this category had any streaming content where I could play them. I believe I came across some that didn't work but many did play that I tested. Show Jacks TV does all the recording for you but there are a number of TV networks I didn't see with any recorded TV shows. You'll have to check further in the free trial to see if your favorite network is there.
Movies & TV Series (On-Demand)
When going to the Movies category, you will find All Movies (12,366 in total), New Releases. You'll see all genres as well. When going into the New Releases section, I tried playing the first two movies, each separately. Neither one of those movies worked that day but when I came back the next day both movies worked/played.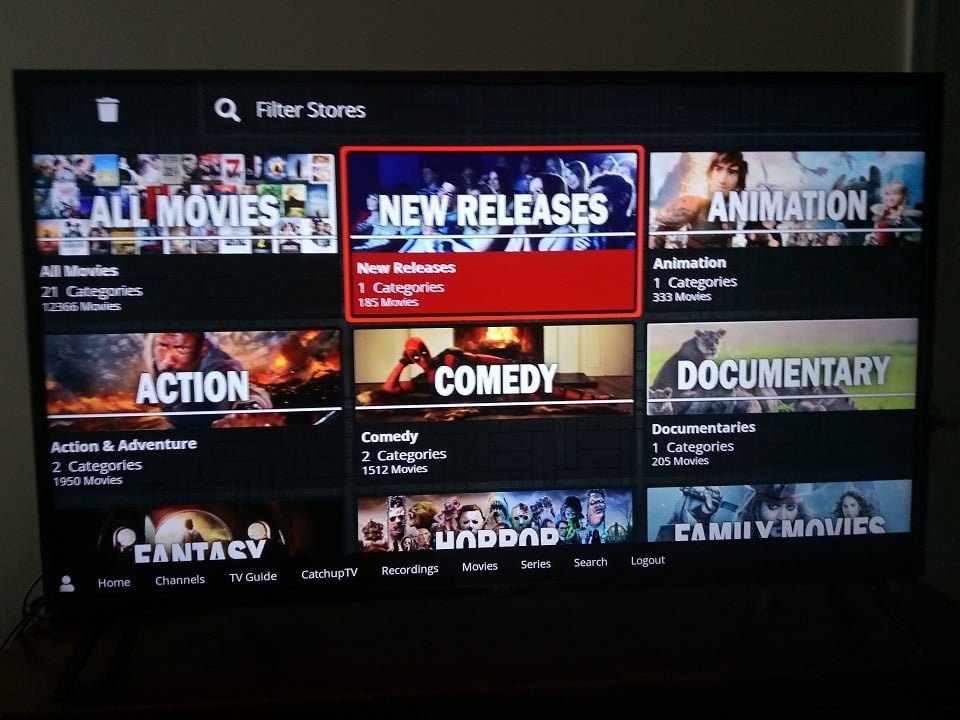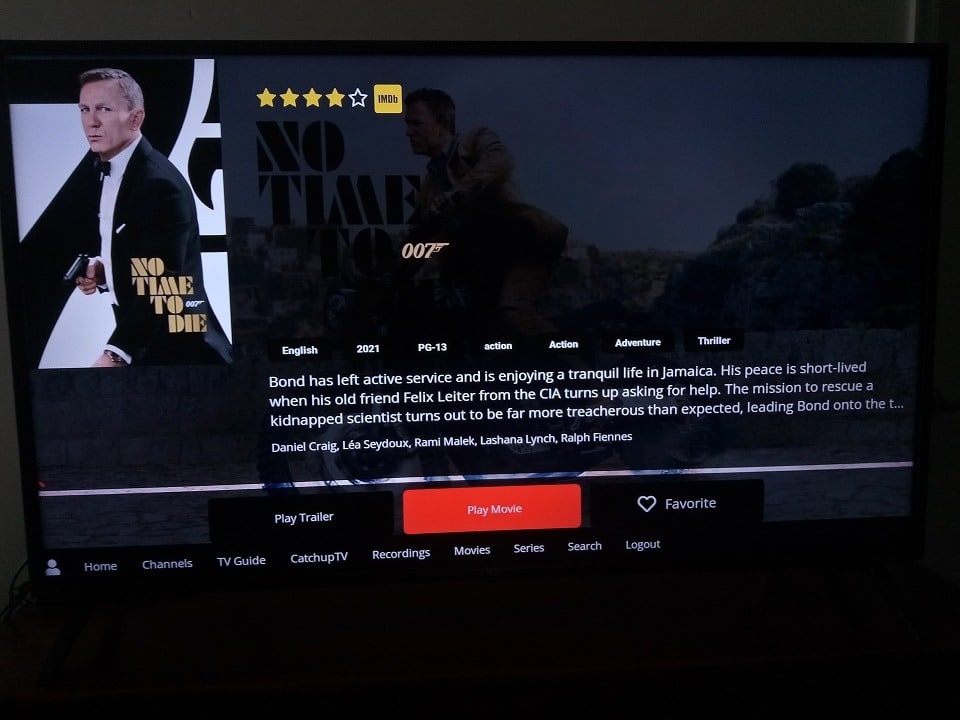 I played several movies over two days and for the most part they worked. However, none of the movie trailers worked. When playing the movies the picture quality was crystal clear. Time-shifting is available whereas you can move the rewind or forward the movie in one-minute intervals.
As for the TV Series category, you will see for instance All Series (844), Documentary, Reality, Kids Shows, Anime, Cartoons, and Comic Book. You can select the season and episode for a particular TV series of interest. And the same features are present that you find for on-demand movies.
ShowJacks TV Review: WebPlayer for iOS Devices and Computers
There's a web player available for iOS and Computer users. You will receive the apk URL via email after you signup for the trial or subscription. The webplayer will open in your web browser when typing or copying/pasting the URL in your browser's address bar.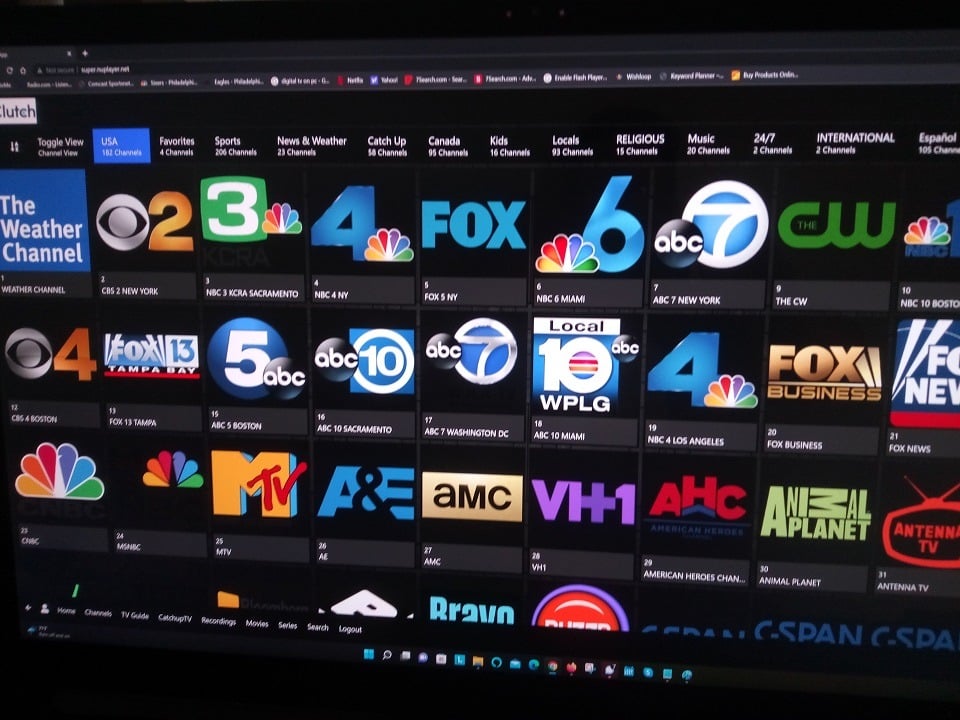 You must select your language, type in the Service ID/Username/Password, and create a profile name if not already created. I used my Windows desktop computer and the layout inside the TV app was pretty much the same as Thorium Player on my Firestick. How cool is that!
There is nothing new you have to learn, only the functions on my keyboard are different
The TV app in your web browser means you can travel anywhere in the world and watch all your favorites. But you must have an adequate Internet connection with enough speed and strength.
Features Enhancements
There are many features that I listed below:
Search tool (Search TV Network/channel name, city name, movie/series title)
Preview & Full Screen
Closed Captioning (Doesn't work for channels)
EPG (Electronic Programming Guide) / TV Guide
Parental Control
Report Non-Working Audio, Video, or Both
Add to Favorites (Channels & VOD)
WebPlayer (Watch in your web browser)
Wishlist (WIll populate based on what you were watching)
Change Language
Change Time Format
Sort
Time Shifting
Update App
Toggle
And More
There is another feature that has me a bit puzzled. I am waiting for support to explain it to me. The feature appears after I play a live channel and press down on the ring on my Firestick remote.
I can flip through different channels but there's some other stuff there that I can't explain at this time. When support updates me, I'll update my ShowJacks review.
Click Here to Get Your Free Trial or Subscription
User Interfacing
The Thorium Player connected to the Show Jacks TV servers works seamlessly. My interaction with both the app and features including playing the streaming content for the most part came easy. Simply let your eyes lead the way when you open the player. Go to any category of interest and select it. And from there find and play whatever interest you.
The Search tool can be of some use to you as well if you want to search for a specific city name, movie/TV series title, or channel name. How I was able to navigate throughout the Thorium Play came easy. There wasn't anything I needed to figure out too much with the exception of that one feature that I explained earlier.
Both newbies and experienced TV app users will have no problem using Thorium Player and ShowJacks TV. However, newcomers will no doubt need more time to adjust to watching TV online and working with a TV player app/apk.
I highly recommend using/buying an Amazon Firestick. The remote doesn't have that many functions. The functions work great with IPTV services and the TV apps they use.
Performance
This part of the ShowJacks TV review covers the overall performance of the TV player and IPTV service. But this also involves your Internet connection and speed.
The picture quality and audio both get a high rating. The time it takes to play a live channel stream is very quick, no problem there. As for VOD movies and TV series, not as quick for quick enough. The functionality involving features worked very well. Overall, I'm very happy with the performance.
But only time will tell and this is why I opted in to pay the one-month subscription so that I can test this IPTV service with app/apk further. No IPTV service is perfect. Some channels may cause consistent buffering but this usually isn't the IPTV service fault. Most of the time this issue occurs on the subscriber's end stemming from their streaming device and/or Internet connection.
Streaming Device & Internet Speed
Here's where I dive further into the performance whereas I'm not going to get too deep into my ShowJacks IPTV review on this topic. First and foremost, you should have a new or fairly new compatible streaming device. See compatible devices further down. Your device should have the latest update.
You must have High-Speed Internet of at least 60 Mbps (download speed) but 100 Mpbs or more would be even better. You may get by with less than 60 Mpbs when playing some of the channels. I pay $156.00/Mo. to Comcast for 400 Mbps download speed and recently they up that to 600 Mbps with no extra charge. You probably can get more with FiOS or whatever you have now.
The higher the Internet connection speed the better the overall performance and picture quality. You want to avoid consistent buffering as much as possible. You can always search YouTube for video tutorials on how to stop buffering which usually occurs on the user's end, not the IPTV service end.
Sometimes a VPN service can help improve streaming performance and stop a buffering issue. To be clear only some live channels will cause a buffering issue. For me, sometimes that channel is TNT and I have to turn on my VPN and switch to a different city or country. Sometimes this eliminates the issue.
Compatible Devices & ShowJacks Device Connections
You probably have been patiently waiting for this, knowing what compatible streaming devices can be used with ShowJacks and Thorium Player.
Here is the breakdown of compatible devices:
Thorium Player: Amazon Devices (Firestick & Fire TV) & Android Devices (TV, Box & Phone)
WebPlayer: iOS Devices (iPhone, iPad, iPod?) & Computers (Windows, Mac & Linux)
As you can see, there are not that many compatible devices that you can use. But who really cares if you have the Amazon Firestick. Just know that mostly all IPTV services list that device as compatible because of its popularity and technology. Get one or more Firestick 4K devices if you don't already have it.
When I conducted my ShowJacks review, I used both my smart TVs (LG & Samsung) with a Firestick connected to each one. There are just two subscription plans to choose from outside of the free trial. Each allows you to connect up to 5 streaming devices at one time.
What this means is if you have 5 household TVs with the Firestick connected, each family member can watch something different. Or, you can watch everything from different areas inside your household from top to bottom.
If using a WiFi connection, you just need enough speed and strength to stream all the channels and VODs inside the app. Try using an Ethernet cable (wired) connection if you can for faster Internet speed. The Ethernet adapter for the Firestick failed the test. It doesn't make the Internet connection faster so stay away from that.
Additional Info…
Don't get me wrong, I love the Firestick but if you have an Android TV or box, use it. Everything should work just fine. The same thing for an Android phone which I'm testing with the Thorium Player connected to the Show Jacks TV servers. So far I like what I'm experiencing.
ShowJacks IPTV Free Trial & Subscription Plans
If you are very new to IPTV or any streaming TV service or using TV apps, I highly suggest entering into the trial. This allows you time to see if this is something you want without shelling out any money.
If you are going to use an older Media Player that also requires the Service ID, Username, and Password, you should also opt into the trial first. Test your Media Player and see if it performs well. Otherwise, uninstall that Media Player and install the Thorium Player which Show Jacks IPTV supports.
Trial & Subscription Plans
24-Hour Free Trial (No credit card required)
1-Month (5 Device Connections): $26.00 USD
3-Month (5 Connections): $66.00 USD
There is no automatic or recurring billing so when your subscription ends, you make the decision to renew or not. You can pay for the other subscription plan if you prefer which means you can flip flop between both plans when the subscription expires.
You must revisit the ShowJacks TV website to renew your subscription so remember their name and know where to find the website. Save all emails from them so that you can refer back to them again.
Money-Back Guarantee: You get a 30-day money-back guarantee which is unusual. In many cases, I've seen some IPTV services not allowing refunds when making the free trial available. And if they include a money-back guarantee, it's usually for a smaller number of days after making the purchase.
Get Your Free Trial or Subscription Here
Show Jacks TV Support
Initially, you get two ways to contact this IPTV service. You can use the Contact form on their website or chatbox. I don't believe there is a live agent at this time so you will need to leave a message. You can also ask pre-sale questions if you want.
During my ShowJacks TV review, I contacted them a couple of times. Either I got a reply that same day or the next day but this was during a weekday. Here's what's written at the top of their Contact from:
"Typically we answer questions as quickly as possible between the hours of 8am to 12midnight est………After that, we can still answer any questions you have but it may take a little longer for us to get back to you. However, it won't take longer than 12 hours to give you a response. Just please make sure to double-check the email you enter."
I would also add to check your Spam and Junk mail folder to make sure you get their reply email.
Understand that there is a live customer service team available every day between the hours of 7 AM and 11 PM Eastern standard time. Just open up the chat window on their website to talk to a live agent. Click Here to Visit Now.
ShowJacks Review: Pros & Cons
As you can see, I provided you with a lot of information, and details about this IPTV service along with many ShowJacks videos that will help you even more. After conducting my ShowJacks IPTV review, I knew this IPTV would become one of my top 3 IPTV services. But they are not perfect and neither are all the other IPTVs out there.
PROS
What more can I tell you. If you read a great portion of this ShowJacks review, no doubt you see all the benefits. I tested and reviewed many IPTV services over the past years. This one passed with a high grade in many categories. This includes the streaming content, features, user interfacing, performance, price, webplayer, Thorium Player, support, etc.
It doesn't take a long time to get set up but more steps are required for the Firestick and Fire TV. Never fear, I made the setup very easy for those device users when watching the setup instructions and installation videos. You can find the video links further up.
Once the TV app is connected to the ShowJacks IPTV services, you are home free and can watch all your favorites online at your leisure. Whether watching at home or on the go, you get the best of both worlds.
ShowJacks TV uses a No IP Lock system which means you can change your IP address without getting locked out. You can use a VPN service if you want to hide your location from other people online including your ISP (Internet Service Provider).
Lastly, you can connect any compatible device when traveling near or far. This cannot be said for IP Lock IPTVs out there that only allow you to connect a smartphone with traveling.
CONS
Truthfully, the pros outnumber the cons so you don't need to worry. But I have come across some downsides that you need to be made aware of. Of course, there are some channels and VODs that are not going to work/play. You can always contact support to help resolve the issue. Just remember the Thorium Player is supported.
There are a limited number of US local channels (93). You may or may not find your city included and if it's included, only a few channels are available to watch online. You are better off buying an HDTV indoor antenna with a radius of 100 miles or more. Connect the antenna to your TV and scan your local channels without cable TV.
I have not come across any movie trailers that work. Although this shouldn't be a big deal, they have it there so why aren't the trailers working? There is one feature that I have no idea what it does and how it works. I'll give ShowJacks a pass on this for the time being as I wait to hear from support.
The device compatibility is very limited. This leaves out many people who would truly enjoy this IPTV service. But then again, they should get the Firestick if they don't have a compatible device.
There are not that many CatchUp TV networks with recorded TV shows. I'm not sure if more will be added over time but this is where things stand right now.
Additional Info…
Support did get back to me regarding that feature I mentioned earlier in this ShowJacks TV review that I couldn't figure out. No doubt you will come across it but there's really no issue. I was told that the feature is currently being worked on and not working properly right now. Therefore, we have to wait and see.
Conclusion
I provided all the important information needed to make a well-informed decision. The benefits are there whereas most should enjoy what this IPTV service offers and delivers.
Times are tough for some people who simply don't have the income, living on a tight budget, or don't have cable TV. Perhaps you are thinking about canceling your cable subscription as I have many years ago and saved a bundle.
The cost savings alone should make you happy when using ShowJacks as your go-to TV source. They have TV entertainment for the entire family. The question becomes is Show Jacks IPTV reliable and my honest answer for you is time will tell. But they have been in service for a number of years and recently changed their brand name from Clutch TV to ShowJacks.
If you are still hesitant to take the plunge and try this IPTV service out, hopefully, the free trial will do away with your reluctance. Watch the video tutorials that I made for you and see everything with your own eyes. Now the decision is yours to decide to go forward and give Show Jacks IPTV a try or move on.
This Concludes My ShowJacks Review
Signup Here and Get Your Free Trial or Subscription